---
Nomenclature of Territorial - Nuts 3 Austria
NUTS (französisch Nomenclature des unités territoriales statistiques) bezeichnet eine hierarchische Systematik zur eindeutigen Identifizierung und Klassifizierung der räumlichen Bezugseinheiten der amtlichen Statistik in den Mitgliedstaaten der Europäischen Union.
---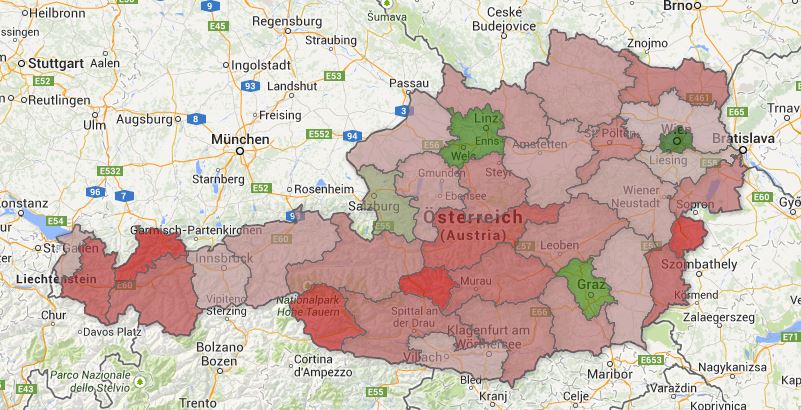 ---
Sie lehnt sich eng an die Verwaltungsgliederung der einzelnen Länder an. In der Regel entspricht eine NUTS-Ebene einer Verwaltungsebene oder einer räumlichen Aggregation von Verwaltungseinheiten. Eine vergleichbare Systematik gibt es auch in den EFTA- und CEC-Ländern.

Diese Systematik wurde 1980 vom Europäischen Amt für Statistik in Luxemburg entwickelt, um regionale Raumeinheiten innerhalb Europas auch international statistisch vergleichen zu können. NUTS-Regionen sind die Grundlage für die quantitative Beurteilung von Regionen durch die EU. Im Rahmen der Regionalpolitik werden Fördermittel konkreten NUTS-Regionen (v. a. NUTS-3-Regionen) zugewiesen.
---
NUTS 3 mit Gemeinden, Flächen und Bevölkerung, Gebietsstand 1.1.2018
Fehler

One or more columns doesn't have a header. Please enter headers for all columns in order to proceed.